In response to opportunities identified through the CLER site visits and noted practice patterns in the literature, the ACGME established Pursuing Excellence in Clinical Learning Environments. With the support of 21 partnering organizations in health care quality and education, the four-year initiative will promote transformative improvement in the clinical learning environments of ACGME-accredited institutions. The ACGME believes that transformation will require new models of integration between health care delivery systems and graduate medical education (GME), which will in turn lead to measurable improvement in both patient care and learner experience.


The Pursuing Excellence initiative includes three major components: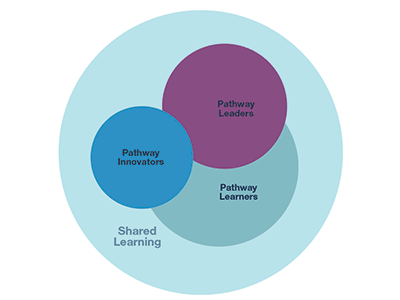 Pathway Innovators, Pathway Leaders, and Pathway Learners

It begins with intensive efforts directed toward small groups of progressive thinkers, and cascades their accomplishments to ever-widening audiences. As the early participants identify solutions, they will share their knowledge with increasingly larger networks of their colleagues, forming the Innovation Collaborative.


Pathway Innovators
The Pathway Innovators component is comprised of highly-motivated teams of hospital and medical center executives and GME leaders from Sponsoring Institutions that will commit significant time and resources to enhancing the vision and culture of clinical learning within their organizations. To spur Innovator engagement, the ACGME has provided external funding through a competitive aware process, as well as access to a range of consultants and experts to assist with implementing new models for clinical learning environments.


The organizations selected as Pathway Innovators meet several times per year over a four-year period to share progress and learn from one another.


Pathway Leaders
This component is designed to help support Sponsoring Institutions that seek to improve the quality of their clinical learning environments by focusing selectively on one of the six CLER focus areas of patient safety, health care quality, care transitions, supervision, duty hours/fatigue management and mitigation, and professionalism.
Although narrower in scope and shorter in duration than the Pathway Innovators component, this component will bring together groups of key individuals from the participating sites of ACGME-accredited Sponsoring Institutions to identify new structures and processes for optimizing the learning environment in the chosen focus area.


Pathway Learners
This component aims to reach a broad audience of Sponsoring Institutions seeking to improve their clinical learning environments. Over the four years of the Pursuing Excellence initiative, the ACGME will identify numerous opportunities for the Pathway Innovators and Pathway Leaders to share their successes with the Pathway Learners. The Pathway Learners will help to accelerate adoption of the efforts developed by the Pathway Innovators and Leaders by providing important feedback on how to shape the innovation and learning so that it can be integrated across a large and variable set of clinical learning environments.