The ACGME has returned to offering its longstanding Developing Faculty Competencies in Assessment course in person. This course uses a series of theory bursts and interactive small group activities designed to help participants design and make improvements in their own assessment programs and strive toward achieving the goals of competency-based medical education (CBME).
Outcomes and competency-based medical education practices, as well as the ACGME's accreditation model that includes the Milestones, have created a growing and important need for effective assessment in graduate medical education (GME) programs across all competencies. The COVID-19 pandemic only reinforced the need for robust assessment programs to ensure the effective professional development of medical students, residents, and fellows.
To help build a community of learning, educational materials will continue to be available to all participants after they complete the course through the ACGME's online learning portal, Learn at ACGME. Note: a free account is required to access content in Learn at ACGME.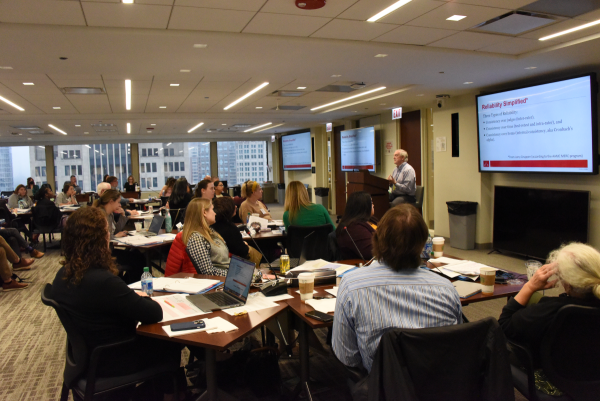 A Systems Approach to Developing Faculty Competencies in Assessment
The course is designed to help participants build effective assessment programs for their residency or fellowship. Sessions are highly interactive and use multiple learning approaches, including simulation practice, peer consultations, and application exercises, to provide participants with methods and tools for effective assessment. The course also provides a roadmap for developing an assessment system to assist participants in implementing changes within their own institution.
This course is ideal for:
Program directors
Associate program directors
Chairs and members of Clinical Competency Committees (CCCs)
Designated institutional officials
Faculty members with major responsibility for the assessment of residents/fellows
Save the Date!
ACGME – Developing Faculty Competencies in Assessment
May 5-10, 2024
In Person