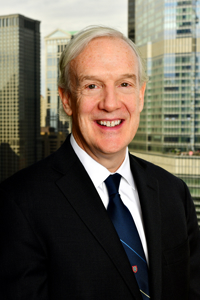 The ACGME is proud to announce that Eric Holmboe, MD, MACP, FRCP has been appointed the new Chief Executive Officer of Intealth, which includes ECFMG and FAIMER [Educational Commission for Foreign Medical Graduates and Foundation for Advancement of International Medical Education and Research] as its divisions. While this is a tremendous personal achievement for Dr. Holmboe, it is bittersweet to see him leave the ACGME after all he and his dedicated staff have accomplished. The ACGME is pleased he will continue to be a valuable member and leader of the medical education community in his role at Intealth. Dr. Holmboe will remain with the ACGME until January 2, 2024, when he will assume his new role at Intealth.
During his decade at the ACGME, Dr. Holmboe and his talented team led the development of several important initiatives, including:
Supporting the development and implementation of over 180 sets of Milestones.
Creating the Advancing Innovation in Residency Education (AIRE) program to foster competency-based medical education and innovation in graduate medical education (GME).
Co-leading the creation of multiple guidebooks (Milestones, Clinical Competency Committee, Assessment, Implementation, Resident/Fellow) and the annual Milestones National Report, including both data and predictive probability values [PPV] component reports.
Supporting the creation of the Faculty Development for Direct Observation and the Remediation Toolkits.
Helping launch the faculty development assessment course and Regional Hub program to provide practical training in assessment. This initiative has reached more than 2,000 participants, in both the US and internationally. There are now 18 Regional Hubs, including seven in six countries outside of the US.
Helping deliver 11 virtual assessment courses during the COVID-19 pandemic.
Creating a research team and program to investigate the impact, validity, and outcomes of the Milestones program and accreditation. The research team has collaborated with multiple external institutions and organizations, and these collaborations combined with the research team's own work have produced multiple validity and outcome studies published in high impact journals.
Co-leading and supporting the creation of the Transitions in Medical Education toolkits during the COVID-19 pandemic.
Representing the ACGME on the National Academy of Medicine's Action Collaborative on Countering the U.S. Opioid Epidemic and helping create the core competencies for substance use disorders and pain management.
Supporting the Foundational Competencies project for undergraduate medical education, in collaboration with the Association of American Medical Colleges and American Association of Colleges of Osteopathic Medicine.
At the ACGME, Dr. Holmboe served as the Chief Research, Milestone Development, and Evaluation Officer. He also contributed to the broad medical education community as an adjunct professor of Medicine at Yale University School of Medicine, adjunct professor at the Uniformed Services University of the Health Sciences, and adjunct professor of Medical Education at the Northwestern University Feinberg School of Medicine.
When recently asked about his many contributions to the ACGME and medical education, Dr. Holmboe replied, "I could not have done any of this without the incredible team in our department and support of the entire ACGME and the GME community. What I am most proud of is the amazing dedication and skill of the Milestones team. It is mindboggling what a small shop, never more than 12 people, accomplished, and produced."